Everything You Need To Know About Google My Business
Many business owners we work with understand that there is value and importance with having a Google Places result on the Search Engine Results Page, also known as SERP. When a user is performing a Google search and Google believes they are looking for a local business (for example, a plumber or restaurant), then Google will give them a profile in the results. Understanding the importance isn't what is important – it is knowing how to achieve better results with your Google My Business listing. You can get more calls or more visits from a GMB listing if you know how to maximize your profile.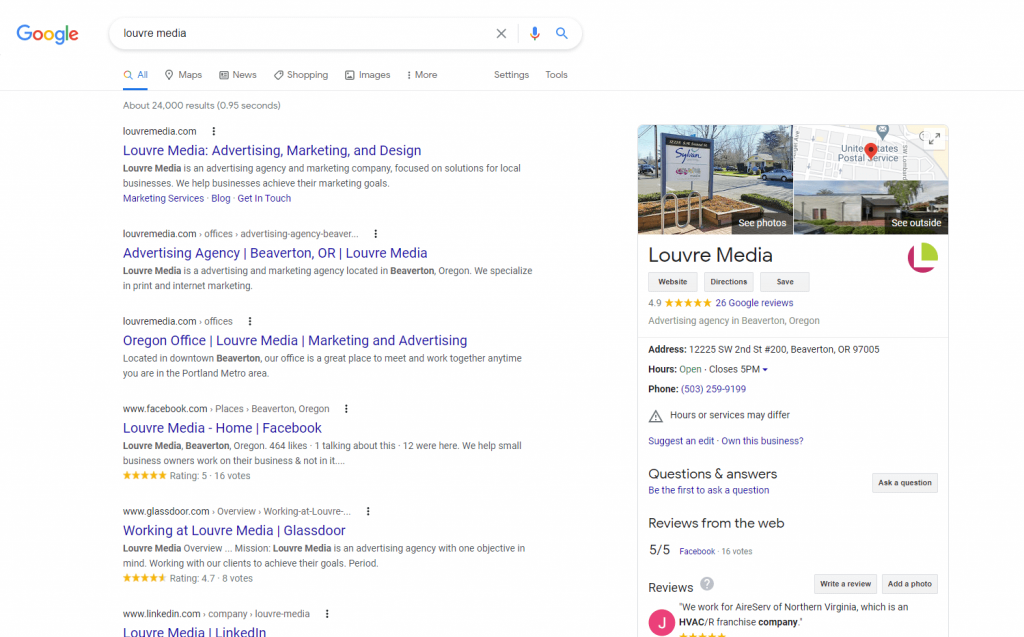 Some people refer to their profile as their "Google Map Listing," which is partially true. The Google My Business listings are connected to the Map Listing. We have clients who think of this as 'organic' traffic or 'organic' calls since the clients came directly from a Google search result. In the Google My Business dashboard it even shows the amount of calls coming in specifically from the Google My Business listing (when it can track this) as well as some other great data that is good to know when running a company. If you have never seen this data, it's in the Insights tab on the Google My Business dashboard.
At a very high level, Google wants to match what the user is searching for as best as possible. We will go ahead and say that Google is pretty darn good at this, though that is probably stating the obvious as Google would not be the number one search engine if it wasn't this good. Being near the top of the SERP is valuable to any business. The higher the spot, the more phone calls and visits you get. There is a lot of information all over the internet about the value of the top spots on search results, so without citing specific reports, let's agree this makes sense and we know this.
What Can I Do to Help My GMB Listing Show Up And In A Higher Position?
Google makes many recommendations on how to improve your Google My Business Listing. We have found they make sense, but the challenge is making updates on a regular basis. Being active and consistent with your listing is key, as it communicates to Google that your business is alive and well, and the information can be trusted. Here are some things you can do (or even our team😊) to help your listing improve.
Ensure your information is complete.
Add a profile picture, fill out your business description, daily hours, and holiday hours. Verify your location and add your service area if you have one. If you make changes to your website, don't forget to update this information in Google My Business!
Highlight your business products and/or services.
Write about the products you carry and the services you perform. If Google knows you provide XYZ, they are more likely to show it to a consumer who is looking for XYZ.
Add photos
Whether it's food you serve, work you do, photos of your team and building/signs, products you sell, or activities happening in your company. Be particular about these photos, because they are actually scored by users. Google will choose two photos and ask a viewer to pick which one best reflects the company, and they do it often to help decide which photos to show more prominently. The more photos you upload the better opportunity you will have in helping Google find photos which best connect with consumers. When you add photos to your website or social profiles, add them to your GMB listing as well. We recommend you do this at least monthly, even if it is only two pictures a month. They'll add up over time.
Publish an update at least weekly
Did you know there is a place where you can post messages, almost like a Facebook post or mini-commercial? These messages show up at times on the map listing, and most often when someone is searching for your business by name it shows up on the map card. These posts should be geared to your existing or referral customer base since these are when they show up most often.
Same day is best for review responses, and Google will notify the person who did the review when you've responded. When responding to reviews keep in mind that everyone can see your response. What the review says may not be accurate, but this isn't the place to call someone something not nice in public – this won't read well to others who read this review. If you have a bad review, try and contact the customer to resolve the issue. We have seen many reviews removed or even upgraded just by the owner reaching out directly to the person. Many times people who feel like they did not receive good service just want to be heard and know they are being listened too. The amount of reviews speaks volumes to Google, but more importantly it speaks volumes to consumers as well. Most consumers, if given a choice, would prefer to work with a 4.8-star company with 100 reviews than a 5-star company with 6 reviews.
Utilize messaging
This is an option for someone to message your business from your GMB listing. It's still pretty new, and for clients we have worked with who tried it, there isn't much coming in from it. This says that consumers aren't adapting to this form of communication – yet. It may be worth trying, and if a user doing a search likes to communicate this way, Google could rank you higher on the map section for a reliable response time.
Virtual tours
This is nice for brick-and-mortar locations where the consumer comes in and may want to see what the store is actually like inside. You can connect with a photographer/videographer who has been certified with Google to do these. They will come in and do the work (typically about $300-$400) and then it can be included in your GMB profile. Caveat here is if you're going to do this, you may want to update this every year or two as the inside of your business changes.
Bottom Line on Google My Business
Google constantly changes their formulas (algorithms) for ranking who appears at or closer to the top based on many, many, factors. The map section is an organic place which can be improved by having more complete data and keeping it current. When it is improved, there is a better chance to appear higher up in search results on the map section relative to your competition. It might sound confusing, but it just takes time to do the work needed to keep your listing up-to-date and working well. Louvre Media can help with any questions you may have.
Warning – Be wary of 'Pay for Guaranteed Google My Business Map Placement' offers
We have seen solicitation from companies our clients have forwarded our way. These solicitations have a promise for 1st position in the map section for as low as $299 a month, but caveat emptor. There are no paid positions on the map guaranteeing first position, and since the decision on top placement is made by Google based on their algorithms, nobody should make those claims. And 1st position for what type of search? 1st position for what geography? You can improve your GMB listing, but cannot guarantee you will show up in 1st position, even in your main geography for what you do. What you can do to improve your listing is provide enough information consistently to Google.