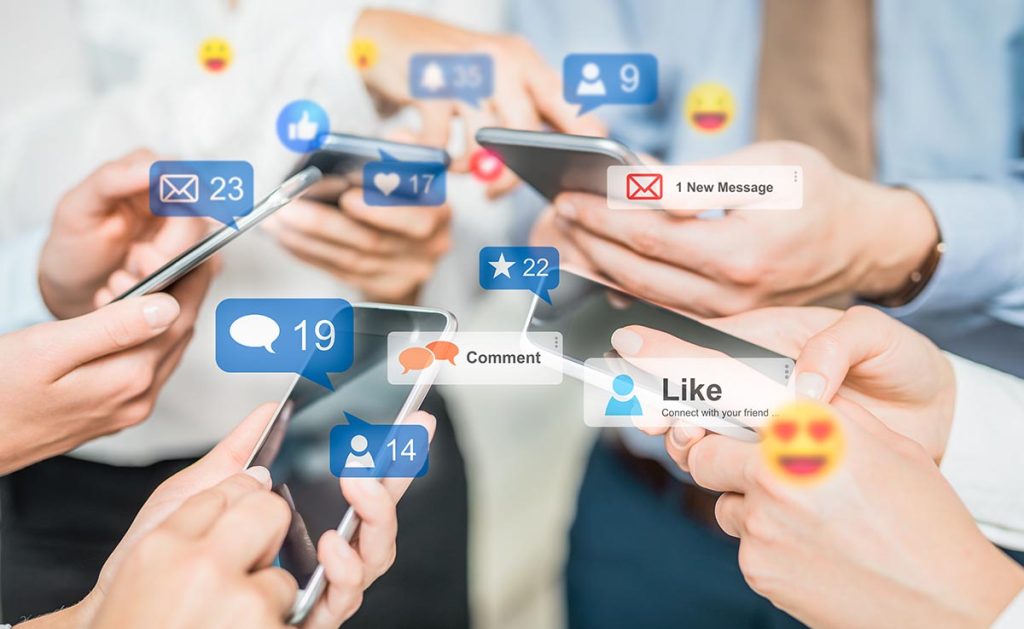 Sometimes it can feel as though people get on Instagram and blast off into fame and fortune. The question marketing people ask is how?  Without understanding social media from a marketing perspective, you may believe all it takes is a few aesthetic photos, funny captions, and you're set. In reality, social media is no "one size fits all" platform because if it was, well life would be pretty boring and no company would ever really "make it" Once a brand knows its voice, follows a strategy, and is an active member of the social media society, they can grow tremendously online. This article will be broken up into two sections. The first is about knowing your platform and who roams around there and secondly, four social media writing styles to elevate your online presence.
There are a few things to think about when building out social media posts and strategies – know your voice, your audience, and your platform.
As social media changes – so do our habits. Social media users have dulled their ability to focus. In fact, the average person looks at a social media post for only 3-10 seconds which we could argue is not long enough to read a caption the length of a paragraph (if that is your style of course.) Knowing how quickly social media consumers can get bored of their apps, understanding how to grab their attention within 3-10 seconds is crucial for industries that rely upon social media to gain customers. Hone in on the voice of your brand. Do you speak to environmentalists? Influencers? Homeowners? Whatever your niche is, define it and stick to it. If you want to know what makes people like, comment, share or save your social posts in the 21st century you should also understand how different social media platforms work and which one will work best for you.
The first thing you need to do is pick the right social media platform. Whether it's Facebook, Instagram, LinkedIn, or Twitter, you need to decide which is the best for your marketing goals. Nowadays, algorithms are hard to compete with because of the mass growth of digital marketing on social media platforms and the floods of competitors giving each platform a shot. With the heavy competition, it is crucial to focus on a few platforms so you can be the best of the best in one area, not the most mediocre of all. Choosing one or two platforms to focus on will better elevate your social media presence. You can dedicate time to growing one or two rather than spreading yourself thin on each platform and receiving little to no engagement. In other words, you don't want to be on Facebook and do a mediocre job and you don't want to be on Instagram and do a mediocre job. You want to dominate one platform and engage with your consumers regularly. Grow your reach, and build a voice for your brand or business.  
Facebook
Facebook is the leading social media platform in the world with over 2.7 billion users according to Dreamgrow. Facebook takes the cake for inspiring other social media creators of what a social platform could be. Facebook allows users to write posts, create photo albums, join niche groups and express themselves freely on the platform. As for business to consumer industries looking to grow, Facebook is a great way to share information, events, and receive reviews to boost your SEO score. According to Statista, women ages 18 to 24, and men ages 25 to 34 dominate the platform with memes, politics, and honest reviews on their favorite burrito in town. 
Instagram
Instagram is the most popular photo-sharing app in the world with a whopping 1.2 billion users according to Statista. The marketing landscape evolved greatly when Instagram first arrived in 2010. It has evolved even more when influencers made their way into the platform. Before the age of the influencers, Instagram was just another place for pure entertainment and fair algorithms. There were no direct messages, stories, or live series – just some cat memes, photos of food, and lighthearted images from users across the globe. The Instagram demographic is heavily men and women under the age of 35 and great for businesses to consumer industries with aesthetic marketing strategies and consistent communication.
Twitter
Twitter is a great platform for business-to-business industries. With over 206 million active users per day, Twitter is an iconic microblogging, meme breading social media platform business and consumers use to retweet, share thoughts, and keep each other updated on everyday life. Twitter is dominated by millennials ages 25-34 and is great for businesses looking to have conversations via. Tweets with their consumers. In 280 characters, you can share funny thoughts from those in your business, tell the public of new releases and exciting events, and stay in constant conversation with your fans.
LinkedIn
Lastly, LinkedIn is the most commonly used platform for business-to-business industries because of its easy-to-use site. LinkedIn is built for businesses to give details about their company and engage with the community – essentially a professional networking platform. With over 740 million users mostly men and women between the ages of 24-35, LinkedIn is ideal to spark conversations with other businesses and for prospecting new hires. Creating a LinkedIn profile allows you to define your business clearly and accurately while consumers can explore your business on a deeper level to understand the voice of your company and the people who make it.
When deciding what platform is suitable for you, think about what type of content you enjoy or are good at creating. If you are tech-savvy with video creation, you might want to start with LinkedIn or Facebook. If you like creating photos and easy-to-read blips, Twitter and Instagram are ideal choices. On the other hand, if your target demographic is older, lean towards Facebook and LinkedIn. If your demographic is younger, focus on Twitter and Instagram.  Once you decide the best platform that makes sense for your business to focus and promote on, you want to begin thinking about content.
Now onto the social media writing strategy! No matter if your brand is selling sweatpants or juicy couture, there are four main social media writing styles to follow to keep your brand at top-of-mind awareness and readable within 3-10 seconds for consumers. Unselling, social proof, sense of urgency, and FOMO.
Unselling: The first style of writing is "unselling" If you are starting a new social media job working for a company that sells cupcakes, before telling your audience to come and shop until they can't eat anymore, you want to create a genuine online voice of unselling yourself and your brand. Writing captions asking others about what their favorite flavor of cupcake is or what treats they look forward to baking most during the holiday season will give your audience a sense of genuine curiosity and humbleness. When you pair this style of writing with high-quality cupcake pictures that can sell themselves, the pictures will do the talking while your captions do the relationship building. 
Social Proof: Social proof social media captions are a version of sharing real people's reviews of your products or services through captions and photos. For example, let's say you are writing for a local bowling alley. A family rents out a lane to celebrate their 10-year-old son's birthday party. They take a fun family photo and post online about how they will come back every year to celebrate birthdays because it was so much fun! Now, you have the opportunity to use their caption as social proof and let your followers know how much fun your customers had at your bowling alley. The proof came from the mouth of the customers rather than the mind of the writer which shows existing and new customers your bowling alley might be the next best place for a birthday party.
Sense of Urgency: This one is a bit more straightforward. When using the sense of urgency writing style, you want to create a feeling of exclusiveness using captions such as "Our limited-edition jackets are selling out fast, come stop by before they are gone!" or "The holidays are just around the corner, make sure you have the perfect gift in time!" Using this style will hopefully prompt your followers to come by your business in person and take a look for themselves. This is a great strategy for flash sales, exclusive offers, and new arrivals. 
FOMO: We have all heard the term FOMO a.k.a fear of missing out. FOMO is more than just an emotion, in marketing, it is about sharing a sense of inclusivity…if you were there of course. One example of FOMO writing could be taking a picture of a long line outside of a Nike store on Black Friday with the caption "Look how long these lines are getting! The crowd is already excited but the first 100 people in line still don't know they are about to get a free pair of Air Force 1s!" and boom 100 more people show up because of the FOMO. 
No matter which platform you use to advertise your business and elevate your success, follow these basic steps and dedicate time to owning your platform. Listen to your audience and get a sense of how they communicate, their habits, and how you can stay on top of their mind even after the sale.